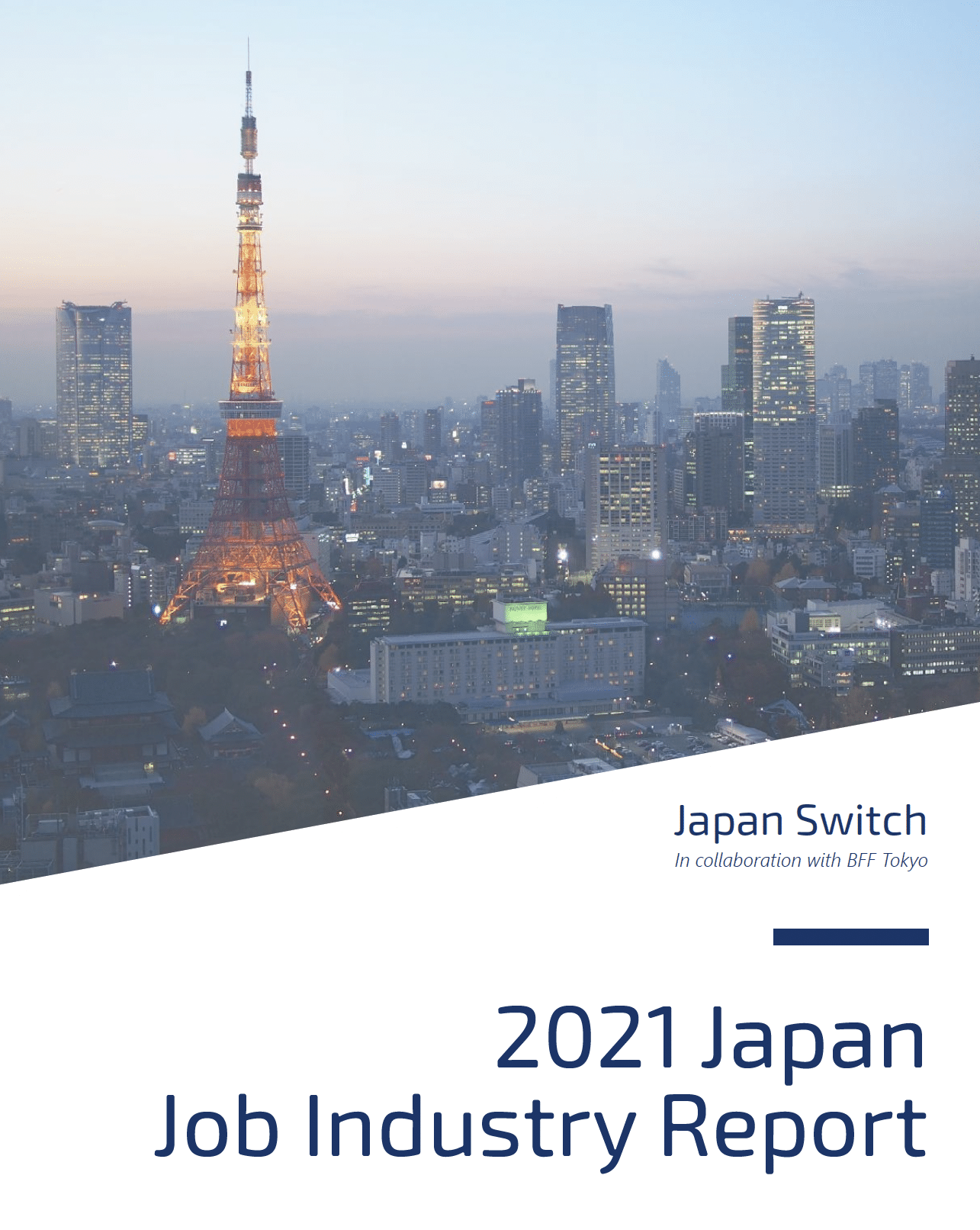 2021 Japan Job Industry Report – Commentary Pt. 1: Numbers and how your Japanese level affects things
Also reposted on Why Japan.
One difficulty that anyone including me who is working in the foreigner HR market in Japan knows is the lack of actual quantitative data. There's a lot of "common sense" that goes around that everyone knows but in order to convince people outside this closed circle (and this includes job-seekers), the lack of data does not make things easy for us.
Just a few weeks ago, and as a Farewell 2021 gift to the community, the people at Japan Switch and BFF Tokyo released their 2021 Japan Job Industry Report and it's a treasure trove of quantitative data that I myself would have never had the time nor the patience to compile. People who want to see the full report can download it by registering at the link here.
I wanted to add my commentary about a few things here to add some insight about how the data should be read, its limitations and how the results may clue you into your job-switching strategy. Do note that the platforms examined in the report are mostly job-switching platforms and not really fresh-graduate job-hunting. This article is therefore far more about mid-career job-switching than what I usually write on.
Point 1: Your numbers are limited if you just use the foreigner platforms
First thing off the bat – the survey compiled data off 14 platforms in March 2021 to May 2021 which returned a grand total of 7,996 jobs. Job boards crawled do include the "big names" of Gaijinpot and, Careercross and Daijob. If I were to complain about a missing "big player", it would be LinkedIn but on the other hand LinkedIn does not make it that easy to trawl big data about jobs specifically aimed at English native speakers so it's shikata ga nai. Anyway, the numbers mean roughly around 571 jobs per platform.
This looks like a lot of choice but it really is not.  After all, these are 7996 jobs that are…
Both full time and part time
Are across 9 industries
Across the whole of Japan
When you actually narrow down the jobs which may be applicable to you due to job scope and industry that could mean 10 jobs … or less. And scattered over 14 platforms.
In contrast though what are the numbers for the Japanese job-switching platforms?
Bizreach has 17,100 companies registered on them – many of which have multiple listings.
Enworld claims to have more than 10,000 open positions with an annual salary of 8 million or more.
For the week until 24th Dec 2021, Rikunabi Next had 5952 new or updated jobs.
The point is that none of the foreigner based platforms stated really can compare to the big Japanese job-switching platforms in terms of volume. Careercross is the largest and possibly can but their positioning also includes English fluent Japanese people so neither are they a fully "foreigner-aimed platform".
If you therefore really want to have a more comprehensive database for which to search for jobs therefore, the Japanese platforms are the way to go.
Does this mean that the foreigner-oriented platforms are useless?
No neither does it mean that they are useless. For reasons stated in this article, many Japanese companies will de facto reject applications from foreigners or only set the bar so high for Japanese that they require not just fluency but perfect, native level Japanese.
A company that posts their job on most of the 14 job boards above therefore is signalling that they are specifically open to or looking for foreign applicants. This means that for the same job scope and requirements, you are probably going to have a higher sucess rate per application on the 14 job sites than on the big Japanese ones. Do be wary that because Careercross caters to Japanese applicants too this may not apply that strongly for them though.
Point 2: Japanese, Japanese, Japanese
You would expect that because these are job boards aimed at English-speaking foreigners, you'd have more jobs which don't require strong Japanese. The results are very different though.
Data above from original report, includes part time jobs.
I took the data in the report and filtered out numbers from the part-time jobs and the jobs with an unspecified Japanese requirement. Based on this we have 5151 jobs, of which:
Require no Japanese: 8.4%
Require N4-N5: 2.5%
Require N3: 11.0%
Require N2: 46.1%
Require N1: 31.8%
These numbers are eeriely similar to the data shown in the "How Much Japanese" part of this article – in the end, we can see that even on foreigner-aimed platforms, the standard of Japanese required by employers is generally high. Though, there are still options for those without Japanese though as seen by the data above – and please see this article for more.
Correlation with pay too
What's new in this report is that there are strong hints that Japanese capability is also strongly correlated with pay. Across all job-scopes surveyed, only IT and marketing did not have some sort of a correlation between Japanese ability and salary (nursing didn't either but the sample size means that few conclusions can be drawn).
Now this doesn't necessarily mean that if you have a stronger Japanese level, you will get a higher pay for the same job. It's quite probable that a strong Japanese level you can negotiate for a higher salary, but just based on this data without controlling for all variables we cannot make that direct a conclusion. However, another mechanism is that more mid-tier and senior positions – which correlate to pay – may lock applicants without strong Japanese. Ie. you could be a junior sales person dealing with overseas sales without Japanese, but if you want to advance in your career and become a sales manager, you may be asked to have a stronger Japanese level.
Point 3: Demand by location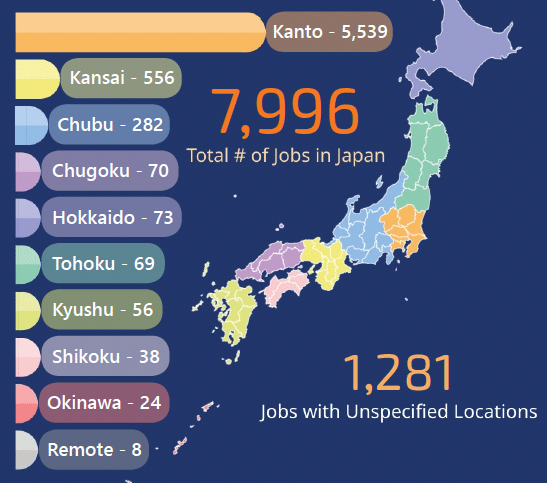 Image above from original report, includes part time jobs.
If we look at the numbers of full-time job postings by location we see the following numbers:
Kanto: 5302
Kansai: 524
Chubu: 264
All other regions had less than 100 job postings though there were 964 jobs with unspecified location. While only 1 job was explicitly stated as remote, the report states that jobs with unspecified location "most likely located in Tokyo or unstated remote jobs" – an assumption that I agree with. Do note that especially for IT there may be companies which list the location to refer to where their head office is but may allow for remote in the end.
Kanto dominance … with some caveats
Firstly, the fact stands that love it or hate it (I'm looking at you Kansai residents), the largest portion of opportunities with regards to employment are still within the Kanto / Tokyo region. This is already true for the Japanese but is particularly acute for companies which are willing to hire foreigners. Do note that this is probably even more true the more senior positions become (though whether these positions will be on job boards is a different question).
Then again the degree which this survey indicates is questionable. Clearly for being the capital region there is no surprise that the Kanto region comes up on top in terms of location – but clearly in wider society it's rather unthinkable that the Kanto region has 10 times the number of jobs as Kansai (when the metropolitan area populations have only a roughly 100% difference) and the same applies to the other regions too.
What you are seeing here is the perfect storm of a few factors:
Kanto having a big concentration of foreign friendly industries (particularly IT) – which are more likely to accept English-speaking talent
Pretty much all the listed job boards having their headquarters in Kanto as well – thus making them easier to build client networks in Kanto itself
With the information lag, employers outside of Kanto being less likely to know about the job boards as options in the first place
The possibillity of there being other similar platforms outside Kanto which are not covered by the report – but this is just a possibility.
Implications as a job-hunter
The implication is that if you are outside of Kanto and if you are trying to hunt for a job…
Online job boards may be of limited use if you want to stay in your current region (or move somewhere else outside of Kanto).
So if online job boards are one of the key ways you are job hunting, prepare to move.
Or… you have to scout out for other places where recruitment information is around in your region.
The remote possibility of remote work?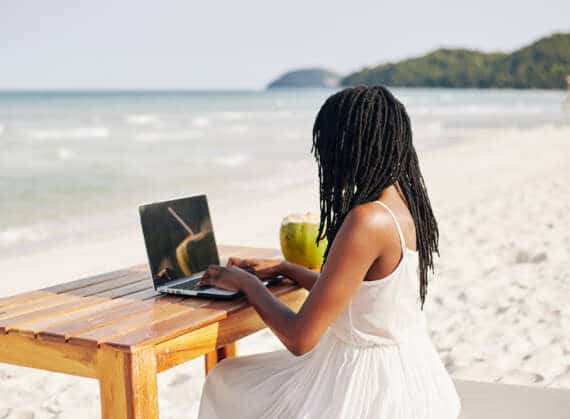 The fact that only one full-time job is stated as remote is also interesting. On the one hand it does point to Japan being very resistant to letting its employees work from home, even among IT (which occupied around half of the full-time job postings). Based on what I'm hearing from other working foreigners, this does really seem like the case.
On the other hand it's rather inconcievable that there is only one remote job among the 5000+ posted. Most likely it's a case of incomplete / dirty data where companies stated their "location" to mean their HQ office location and/or the unstated location job posts being remote.
This makes it very hard to draw conclusions just based on the data. Most likely it's a mix of the above – ie. yes Japan is remote-resistant, but probably not to the extent that the data indicates.
Next up…
We will continue this article in part two – by looking at the demand per industry and some limitations to what the data suggests in the next article. Do take a look at it for more commentary that may help you in your job-hunt!
Once again the full report can be downloaded through registering here.